Dimitris Biskas and Mariana Patsarika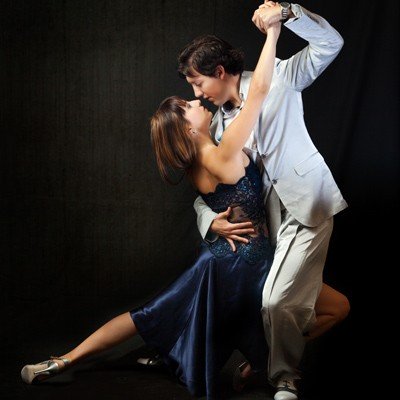 Dmitris and Mariana are based in Paris and apart from running their school in Paris, they also travel around the world to teach and perform. In their own words: "Their purpose and idea of tango is based on the equal relation between partners trying to find a better contact and communication via the embrace of tango."
Dimitris has been dancing at a professional level, Standard and Latin Dances from the age of 10, winning twice the championship in Greece in the Junior and Youth Category (2001 and 2006 respectively) and obtaining also the teacher's license "Dance Club International". He has collaborated with lots of dance schools as teacher of latin, standard and traditional folk greek dances.
In 2006 he discovered the Argentine Tango and since then he has been dedicated to tango as a teacher and performer taking part in many festivals around Europe. He also passed the exams IDTA (International Dance Teacher's Association) at the Argentine tango.
He has obtained a diploma in the University Paris VIII, department of Dance, studying aesthetics, philosophy and history of dance. He continued his studies with the Master 'Conception and direction of cultural projects' in the university of Nouvelle Sorbonne Paris III.
Mariana started dancing classical and contemporary ballet at the early age of 4 and she has studied classical ballet in Thessaloniki, in Greece. During her formation she has also been taught traditional European dances, Jazz, Latin Dances and she has participated in many performances of classical repertory in local theatres.
She dances as a professional dancer and she teaches the Argentine Tango since 2007, performing in numerous events and Tango festivals in Greece and also in Europe.
She has also obtained a Master 2 at the University Paris VIII, in the field of International Artistic Cooperation, preparing the project 'Cité Tango' related to tango culture and its evolution in Europe, a participative performance questioning the position of the public in the performances and approaching tango from his sociological and cultural perspective.
Mariana attended a formation of contemporary dance in the famous center of dance R.I.D.C., former dance academy of dancer and choreographer Dominique Dupuy. She obtained her diploma in the EAT exams (diploma of the state for the professional dancers) in contemporary dance and she is preparing her exams for the diploma D.E. (diploma of the state for the professional teachers).
https://www.dimitrisymariana.com/
http://www.paris.tangomonamour.com/