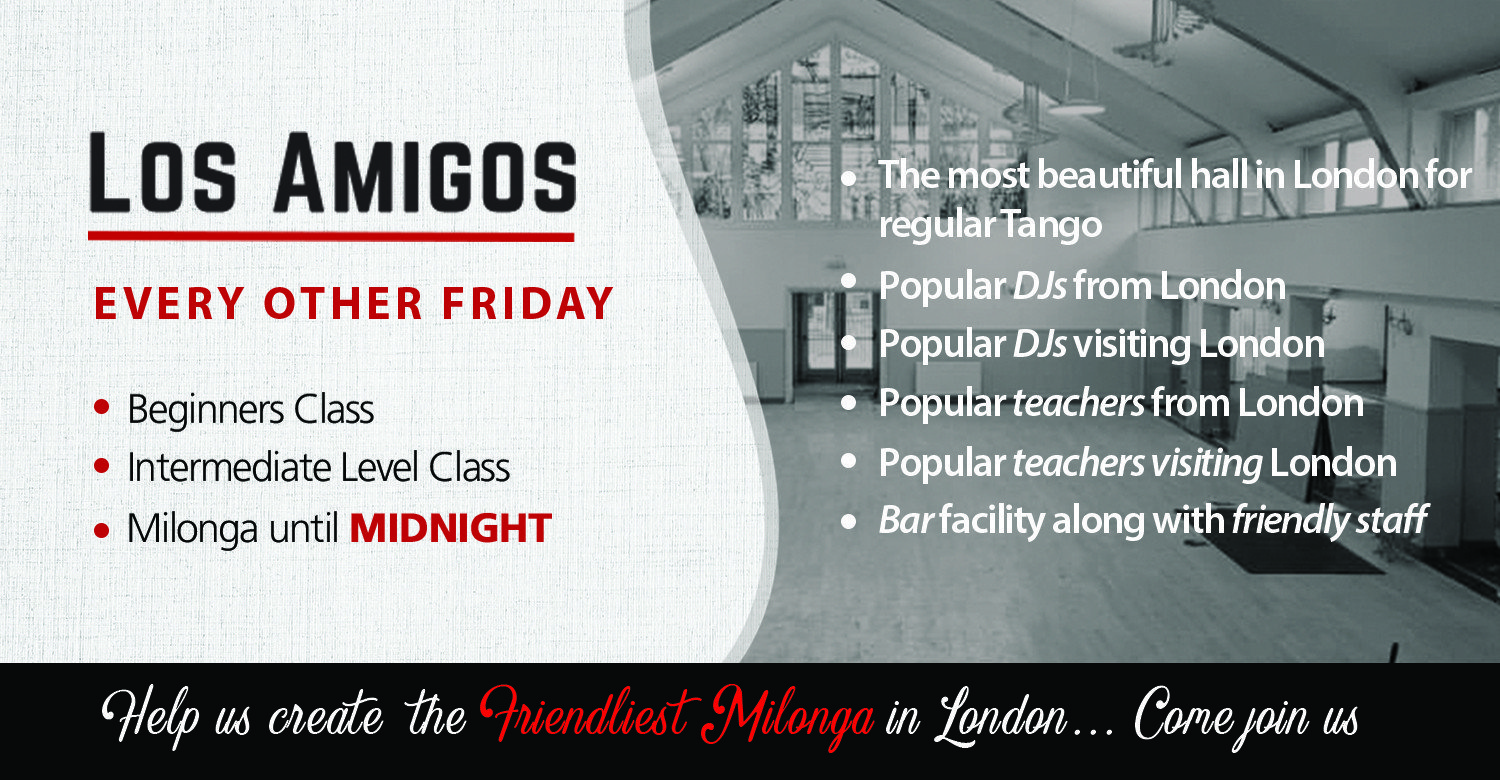 All Los Amigos Friday Milongas are CANCELLED until further notice. We will be back soon after the situation gets better in the UK.
Los Amigos - Friday Milonga
The mission of Los Amigos is to be London's iconic Milonga on Friday nights (please check the dates below for which Fridays we are on). Los Amigos is a community focused Milonga built on the principles of a warm and welcoming place to both visitors and regulars alike. Some important features include:
the most beautiful hall to dance Tango in London on a regular basis.
quality danceable music every time
communal space for the Tango community to come together
affordable bar
quality performances from visiting teachers to inspire the community
quality pre Milonga classes including special workshops from visiting teachers
Typical Programme
This is the typical programme for most Fridays, please check individual events for full details of the teachers, DJ, etc.
7.30pm to 8.30pm - Intermediate Level Class
7.30pm to 8.30pm - Beginners Class
8pm to 12 midnight - Milonga
10.30pm approx - Announcements, Performances, Amigos Tanda
Cost
£10 - Beginners class plus Milonga (£9 if booked online)
£15 - Intermediate class plus Milonga (£14 if booked online)
£10 - Milonga only (See below for big online discounts)
We believe in rewarding the loyalty of the local community and regulars. So the first 10 tickets booked online will be only £5 for the Milonga, the next 10 tickets will be £8 after which all other online tickets will be £9 and tickets at the door will be £10. Please note the price may vary slightly if we are having a special event but the above is true for majority of the events.
Location and how to get there:
St Boniface Church Parish Hall,
185 Mitcham Road,
London
SW17 9PG
Tube station: Tooting Broadway, Northern Line
Car parking: There is plenty of free off street car parking in the area on Friday evenings.
The area is one of London's upcoming areas with lots of new cafes and restaurants if you fancy a Friday evening meal before heading to the Milonga.
Upcoming events
| | | | | | | |
| --- | --- | --- | --- | --- | --- | --- |
| S.No | Day | Date | Teachers - Beginners | Teachers - Intermediate | DJ | Booking |
| 1 | Friday | 13 Mar 2020 | James Forbes and Emma Patregnani | Yuri Bellicanta & Kate Miller | Katerina Stoyanova | CANCELLED |
| 2 | Friday | 27 Mar 2020 | Thu Anh & Adrien | Loukas Balokas & Georgia Priskou | Georgia Priskou | CANCELLED |
| 3 | Friday | 3 Apr 2020 | Asbjorn Schmidt & Nicole Ferguson | Bruno Vandenabeele | Bruno Vandenabeele | CANCELLED |
| 4 | Friday | 24 Apr 2020 | Thu Anh & Adrien | Hernan Brusa | Hernan Brusa | CANCELLED |
| 5 | Friday | 22 May 2020 | TBD | TBD | TBD | Book Now |
| 6 | Friday | 5 Jun 2020 | TBD | TBD | TBD | Book Now |
| 7 | Friday | 3 Jul 2020 | TBD | TBD | TBD | Book Now |
| 8 | Friday | 17 Jul 2020 | TBD | TBD | TBD | Book Now |
| 9 | Friday | 31 Jul 2020 | TBD | TBD | TBD | Book Now |
| 10 | Friday | 11 Sep 2020 | TBD | TBD | TBD | Book Now |
| 11 | Friday | 25 Sep 2020 | TBD | TBD | TBD | Book Now |
| 12 | Friday | 9 Oct 2020 | TBD | TBD | TBD | Book Now |
| 13 | Friday | 23 Oct 2020 | TBD | TBD | TBD | Book Now |
| 14 | Friday | 6 Nov 2020 | TBD | TBD | TBD | Book Now |
| 15 | Friday | 13 Nov 2020 | TBD | TBD | TBD | Book Now |