Performance at NEGRACHA and Ariel's last week with us!
All good things have to end! At least temporarily After the few months of residency with us, Ariel Yanovsky will be heading back to Buenos Aires and this will be his last week of teaching with us. Sunday will be his last day but we will be do the Farewell Milonga on Saturday, please do come along and say bye to the most creative and most fun visiting teacher we have in our school! Of course, it will be the last opportunity to take his classes – he will teach on Tuesday, Wednesday, Saturday and Sunday as usual. You can book for the classes here:
https://www.tango-amistoso.co.uk/weekly-schedule/
Performance at NEGRACHA and Milongas throughout the week!
This Friday, we will have Letitia Simone and Andres Sosa performing for us at NEGRACHA, please do come along and enjoy a beautiful evening of Tango with DJ Gabito Gomez who will keep us dancing till 2am. Of course, be there for the other Milongas too whenever you can – Milonga Central on Wednesdays, Milonga Amistosa on Saturdays and Milonga Simpatica on Sundays. More details on them in the later part of this Newsletter.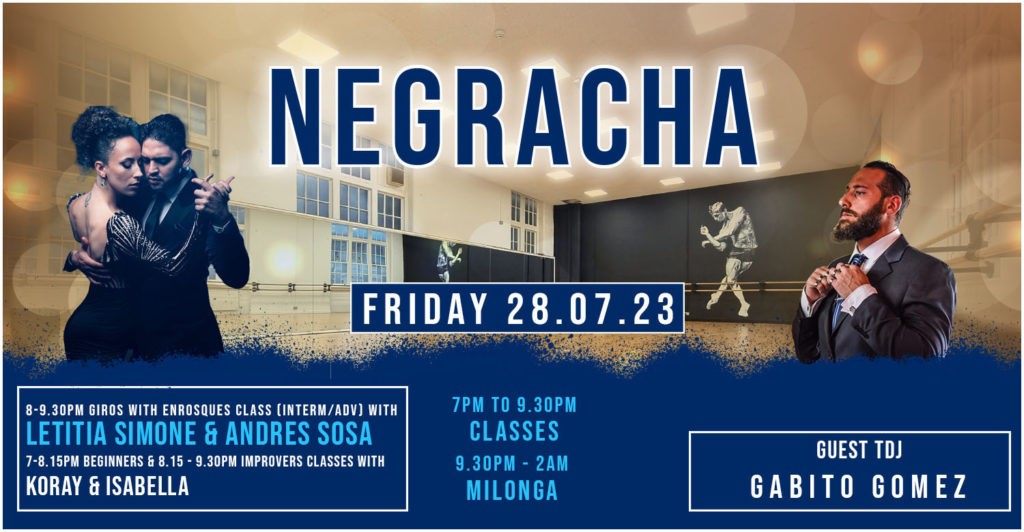 Details of NEGRACHA are here:
https://www.tango-amistoso.co.uk/negracha-28-jul-2023
Tuesday Followers Technique plus Advanced Level Class
Join us every week for our Tuesday Special evenings with Followers Technique class, Advanced Level Class and a mini Practica to put everything we learn to good use straight away. All of this happens in the beautiful Dragon Hall in Central London near Holborn and Covent Garden stations 💕
Each Followers Technique class will begin with 10-15 minutes warm up & basic technique, after which we will dive deep into the theme of the week. Studying Technique has two important phases. Phase 1 is about slowing ourselves down in order to allow the mind to feel and connect to the movements of the body, building body awareness, making corrections and improvements. Phase 2 is about practicing the technique with the times of the music, exporing different speeds and volumes. Followers Technique is open to ALL levels.
19.00 – 20.00 Followers Technique – All Levels with Silvia Bivolaru
20.00 – 21.30 Advanced Level Class with Ariel Yanovsky & Silvia Bivolaru. Sacadas
21.30 – 22.00 Practica
Dragon Hall, 17 Stukeley Street, WC2B 5LT
Followers Technique – £15
Advanced Level Class – £20
Technique & Advanced Level – £30
For the classes, please book online here before coming using the link below so we can balance the numbers.
https://www.tango-amistoso.co.uk/weekly-schedule/
Wednesdays at Milonga Central!
This week's DJ is Sean Teo😊 Wednesdays are turning out to be one of the coolest evenings at Tango Amistoso with the Intermediate Level Class with Ariel Yanovsky and Silvia Bivolaru and a Milonga in Central London that goes on till 1am. Come join us! Details are here:
https://facebook.com/events/s/milonga-central-26072023/809666510869011/
Saturdays: Milonga Amistosa and Classes for different levels!
Saturdays are the original and classic Amistoso evenings, with the Milonga now extended till midnight. Please do come along and checkout a proper Amistoso evening! This week's DJ is Juan Herrera and remember it's Ariel's Farewell Milonga! Details and booking are here:
https://facebook.com/events/s/milonga-amistosa-29072023/2171084599745148/
Sundays: Musicality Class, Intermediate Level Class and Milonga Simpatica
Sundays are our chilled out evenings at Claremont Project, Angel. The Musicality class on Sundays are lots of fun. It is followed by the Intermediate Level class and then Milonga Simpatica till 10.30pm. There is an option to book for both the classes plus Milonga at a reduced price. You can book the classes here:
https://www.tango-amistoso.co.uk/weekly-schedule/
Tango World Champions Marcos and Louise!
It is just one more week to go! We will have Tango World Champions Marcos Roberts and Louise Malucelli coming over from end of this month to stay with us till the end of November. They will be teaching 4 classes every week – on Tuesdays, Wednesdays, Saturdays and Sundays. Get ready for an amazing journey in Tango with them. They are pure class and just watching them move in a class can inspire you to move better and enjoy Tango to the fullest. They will start teaching from the 1st August. You can book for the classes here:
https://www.tango-amistoso.co.uk/weekly-schedule/
50% off summer promotion!
The summer promotion has been well received, it looks like we're going to have a good number of you dancing a lot through the summer in London which is great. We will keep this going till we get a few more signups! Enjoy a glorious summer of Tango in London with 50% off events subscription. This amazing offer is for new subscribers who haven't had a subscription with us before.
The subscription includes:
Mondays – I love Mondays
Wednesdays – Milonga Central and NEGRACHA Kingston
Thursdays – Milonga Andaz
Fridays – NEGRACHA
Saturdays – Tango Garden and Milonga Amistosa
Sundays – Milonga Simpatica
That means for just £40 a month, you can have access to all the above Milongas every week – almost every day of the week! For full details of this option and other subscription options, please check:
https://www.tango-amistoso.co.uk/tango-amistoso-subscriptions/
20+ classes every week!
We now have 20+ classes across various locations and various levels in Central London. We have lots of new enthusiastic dancers coming through the classes and also good experienced dancers in the more advanced level classes. Choose the right level and come and join our beautiful vibrant community. We put a lot of focus on Embrace and Musicality in all the classes, come have fun! You can check the full weekly schedule here:
https://www.tango-amistoso.co.uk/weekly-schedule/
Great value subscription options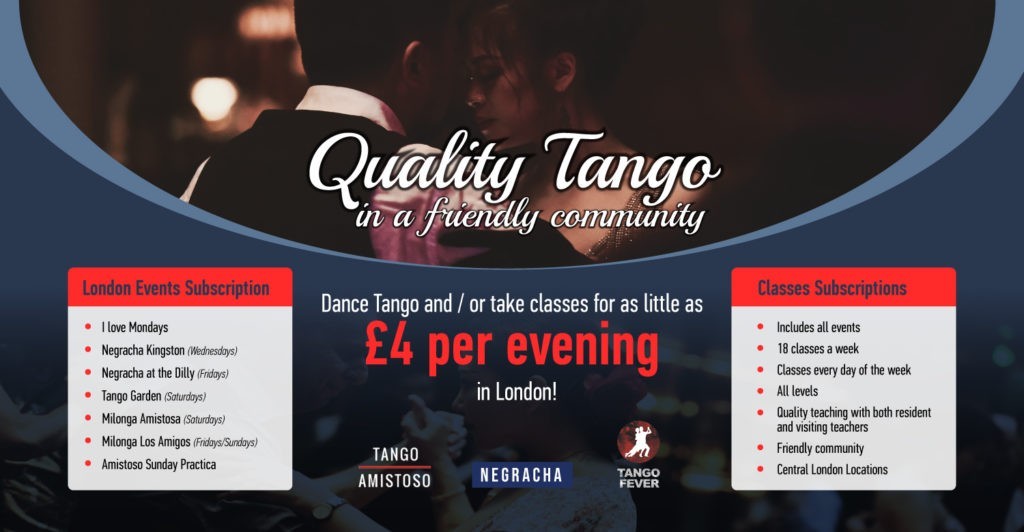 You are absolutely welcome to attend individual classes that suit you best but if you would like to dance more than once a week, then consider the subscription options. They provide a lot of value but also will help you be part of the community and grow with us all. Details are here:
https://www.tango-amistoso.co.uk/tango-amistoso-subscriptions/
See you soon for lots of hugs and beautiful Tandas! 💕