Athens Tango Trip and another amazing week at Amistoso!
This summer has been a bit gloomy with the return of the typical English summer conditions but here at Amistoso it has easily been the best summer of Tango ever! Thank you all for your enthusiasm for Tango and continuing to make our community better 🙏
Athens Tango Trip
The last weekend of September, myself (Winston) and Silvia have been invited to perform in Athens in one of their premier Friday Milongas. The date is 29 September to be precise. Athens is one of the top Tango cities in the world with a vibrant Tango community. We are organising a group of people who will be going with us to Athens for that weekend for both Tango Tourism and regular Tourism 😊 Enjoy the history of Athens during the day and enjoy the Tango in Athens in the evenings! Details of this trip and other Tango Trips are available in the link below in the website. Please do join us if you can for that weekend.
https://www.tango-amistoso.co.uk/tango-trips-and-holidays/
NEGRACHA is now open till 3AM!
Before the pandemic when NEGRACHA was at its peak at the old venue, it used to be open until 3AM in the morning and finally we are back to the same opening times! Dont worry, those of you who like going to bed early, we won't lock you in 😀 Also, this Friday our own Silvia Bivolaru will be DJing. She has been setting the scene on fire ever since she made her DJ debut last year! There are other good things happening at the new NEGRACHA too. Please do come along to check it out.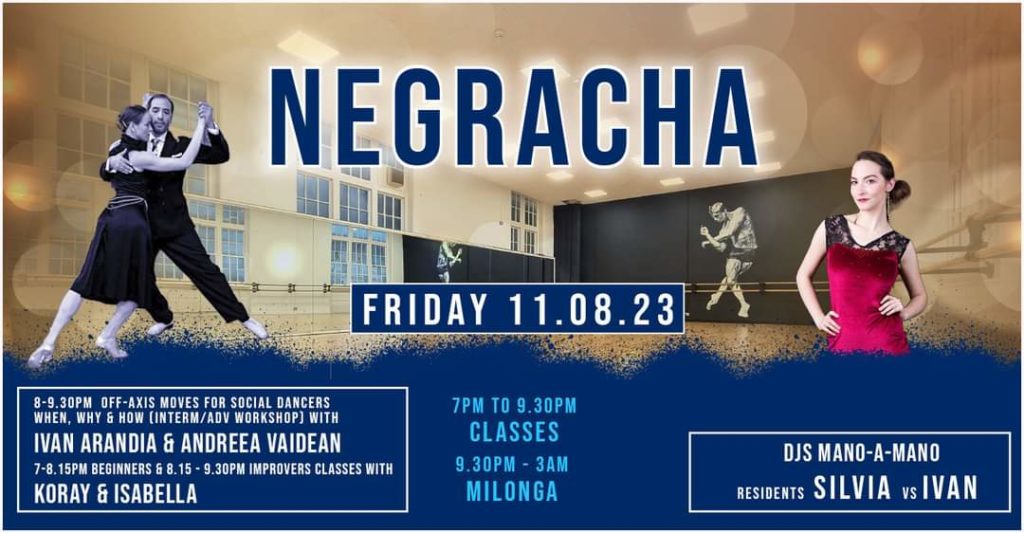 Facebook event:
https://facebook.com/events/s/friday-110823-negracha-herbal-/1947172495642745/
Online booking:
https://www.tango-amistoso.co.uk/negracha-11-aug-2023
4 Milongas every week!
Apart from NEGRACHA on Fridays, we have 3 more Milongas everyone week! Every Milonga has its own character, please do come and check them out all to find the ones that you like the best 😊
Wednesdays – Milonga Central
https://facebook.com/events/s/milonga-central-02082023/2910587839072821/
Saturdays – Milonga Amistosa
https://facebook.com/events/s/milonga-amistosa-05082023/684638003502361/
Sundays – Milonga Simpatica
https://facebook.com/events/s/milonga-simpatica-06082023/6286960691425290/
50% off summer promotion!
The summer promotion has been well received, it looks like we're going to have a good number of you dancing a lot through the summer in London which is great. We will keep this going till we get a few more signups! Enjoy a glorious summer of Tango in London with 50% off events subscription. This amazing offer is for new subscribers who haven't had a subscription with us before.

The subscription includes:
Mondays – I love Mondays
Wednesdays – Milonga Central and NEGRACHA Kingston
Thursdays – Milonga AndazFridays – NEGRACHA
Saturdays – Tango Garden and Milonga Amistosa
Sundays – Milonga Simpatica
That means for just £40 a month, you can have access to all the above Milongas every week – almost every day of the week! For full details of this option and other subscription options, please check:
https://www.tango-amistoso.co.uk/tango-amistoso-subscriptions/
20+ classes every week!
We now have 20+ classes across various locations and various levels in Central London. We have lots of new enthusiastic dancers coming through the classes and also good experienced dancers in the more advanced level classes. Choose the right level and come and join our beautiful vibrant community. We put a lot of focus on Embrace and Musicality in all the classes, come have fun! You can check the full weekly schedule here:

https://www.tango-amistoso.co.uk/weekly-schedule/
Great value subscription options
You are absolutely welcome to attend individual classes that suit you best but if you would like to dance more than once a week, then consider the subscription options. They provide a lot of value but also will help you be part of the community and grow with us all. Details are here: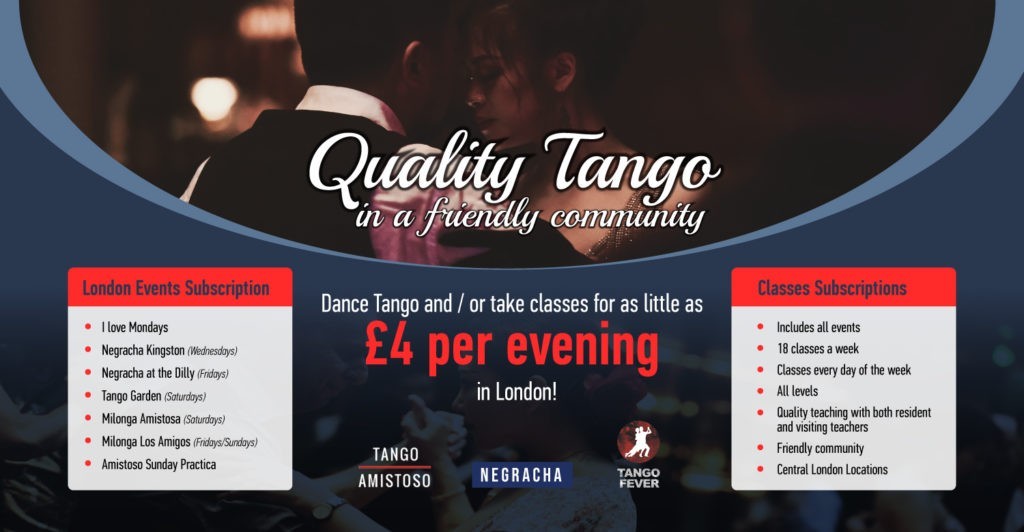 https://www.tango-amistoso.co.uk/tango-amistoso-subscriptions/
See you soon for lots of hugs and beautiful Tandas! 💕