Special NEGRACHA at the Dilly and 50% off!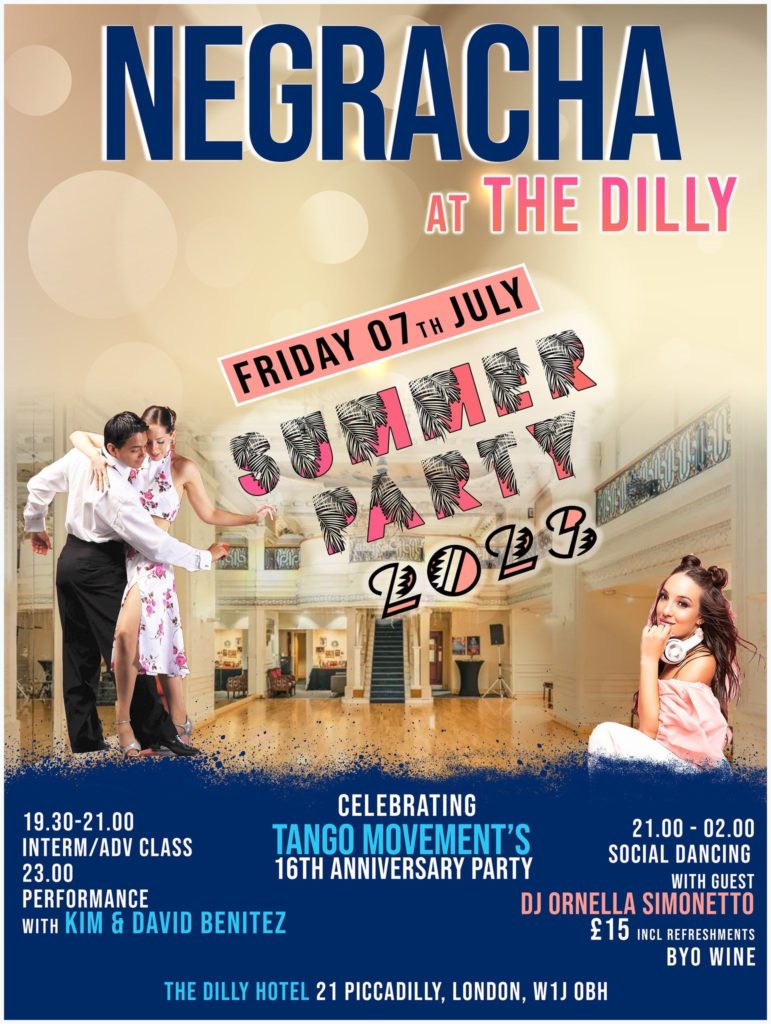 The performance from Esref and Vanessa was smashing on Friday at NEGRACHA and Saturday turned out to be one of our biggest nights ever at Milonga Amistosa. Hope to see most of you back again this weekend because there is something special coming up!
Special NEGRACHA at the Dilly!
We are back to NEGRACHA's super posh venue at the five star hotel The Dilly this Friday. Ivan Arandia, us and Kim and David Benitez of Tango Movement are collaborating to bring you an amazing evening of Tango that will go on till at least 2am to mark Tango Movement's 16th year anniversary in London. Kim and David will be performing about 11pm and there will also be an amazing DJ Ornella Simonetto with us. Please do join us, details and online booking are available here:

4 Milongas every week
We now have regular Milongas 4 times a week at Tango Amistoso. Each Milonga has its own character, please do come along and check them out and be part of our beautiful community.
Wednesdays – Milonga Central near Piccadilly Circus and Oxford Circus
Fridays – NEGRACHA at Herbal Hill, Farringdon
Saturdays – Milonga Amistosa at Herbal Hill, Farringdon
Sundays – Milonga Simpatica in Angel
You can find the details here:
Ariel Yanovsky's last month with us!
Ariel Yanovsky and Silvia Bivolaru are teaching some fantastic classes on Tuesdays, Wednesdays, Saturdays and Sundays at the moment with a clear focus on bridging the gap for people wishing to take their Tango to a more advanced level. Join the classes if you can, it will be Ariel's last month with us before he returns back to Buenos Aires! Full Weekly Schedule that includes Ariel's classes are here:
Tango World Champions Marcos and Louise!
Please make a note. We will have Tango World Champions Marcos Roberts and Louise Malucelli coming over from end of this month to stay with us till the end of November. Hopefully we will get a performance organised with them. They will also be teaching 4 classes every week – on Tuesdays, Wednesdays, Saturdays and Sundays. Get ready for an amazing journey in Tango with them. They are pure class and just watching them move in a class can inspire you to move better and enjoy Tango to the fullest. More details will follow over the next few weeks.
50% off summer promotion!
The summer promotion has been well received, it looks like we're going to have a good number of you dancing a lot through the summer in London which is great. We will keep this going till we get a few more signups! Enjoy a glorious summer of Tango in London with 50% off events subscription. This amazing offer is for new subscribers who haven't had a subscription with us before.
The subscription includes:
Mondays – I love Mondays
Wednesdays – Milonga Central and NEGRACHA Kingston
Thursdays – Milonga Andaz
Fridays – NEGRACHA
Saturdays – Tango Garden and Milonga Amistosa
Sundays – Milonga Simpatica
That means for just £40 a month, you can have access to all the above Milongas every week – almost every day of the week! For full details of this option and other subscription options, please check:
20+ classes every week!
We now have 20+ classes across various locations and various levels in Central London. We have lots of new enthusiastic dancers coming through the classes and also good experienced dancers in the more advanced level classes. Choose the right level and come and join our beautiful vibrant community. We put a lot of focus on Embrace and Musicality in all the classes, come have fun! You can check the full weekly schedule here:
Great value subscription options
You are absolutely welcome to attend individual classes that suit you best but if you would like to dance more than once a week, then consider the subscription options. They provide a lot of value but also will help you be part of the community and grow with us all. Details are here:
See you soon for lots of hugs and beautiful Tandas!
Lots of love,
Winston and everyone at Tango Amistoso